ENGGTALK is a speaker series that is designed to showcase intriguing ideas, spark inspiration, and build a community focused on connection and innovation. We hope that through diverse and interesting events, we can provide opportunities for young engineering alumni to learn, engage and connect with each other in a supportive and encouraging atmosphere.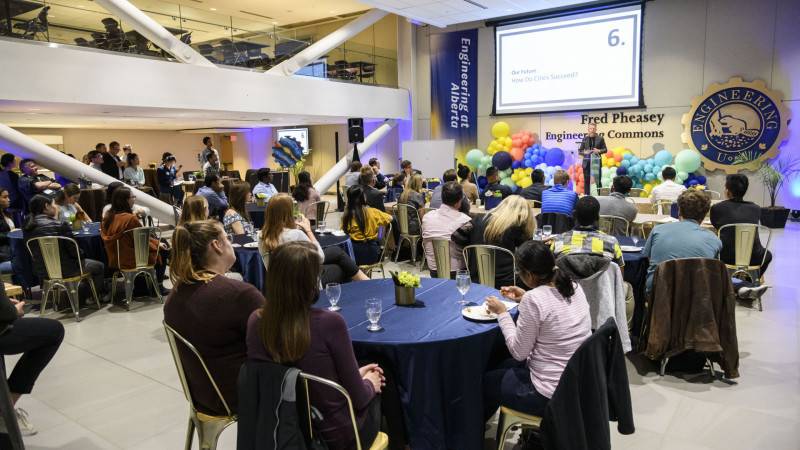 There is an increasingly large number of young alumni that are facing unique challenges and have many important questions:
What career options do I have with my degree?
How can I succeed in the future with my current skill set?
How do I properly navigate the professional world?
In addition, many young alumni value lifelong learning and are always looking for ways to improve:
What are some interesting engineering projects happening locally and internationally?
In what ways can we as engineers innovate to make our world a better place?
How can I, as an individual, develop myself on a personal level and improve my own life?
These are just a few of many questions we are determined to help answer through ENGGTALK. Whether you are a young engineering alumnus, an aspiring undergrad, an experienced professional or simply an ambitious individual who is eager to discover new ideas – ENGGTALK is a welcoming place for anyone who would like to learn something new and be part of a like-minded community.
ENGGTALK Subcouncil Past Work
ENGGTALK #1
November 21, 2017 @ Donadeo Innovation Centre for Engineering
Dale Lechelt – "Stories From the Road Less Traveled"
Tegan

Martin-Drysdale – "Infill in Edmonton – The Good, The Bad, and The Ugly"

Dr. Dominic Sauvageau

– "Bioengineering at the University of Alberta"
ENGGTALK #2: Women in Engineering
March 7, 2019 @ Donadeo Innovation Centre for Engineering
Julie Kim – "Respect, Dis-Respect and Self-Respect"
Jessica Vandenberghe

– "What You Need to Know About Being a Mid-Career Indigenous Female Mother, Daughter, Engineer & Girlfriend"

Meghana

Valupadas

– "Diversity and the Power of the Team"

Meagan Gebers

– "My Roller Coaster Journey in the Construction Industry"

Leanne Stinn

– "Revitalization of the Stanley A.

Milner

Library: An Empowering Journey"

Carille

Mendoza – "Wins and Losses as a Triple Minority"

Jillian Tkachuk

– "#

MeToo

in Corporate Canada: Let's Change the Story"
ENGGTALK #3: Engineering Edmonton
September 21, 2019 @ Donadeo Innovation Centre for Engineering
Scott LaBuick – "The Metropolis Mindset: Engineering Projects for the People"
Wayne Gong – "Walk. Bike. Live."
Josh Bornia

– "Engineering & Community

Wellbeing

: Looking Beyond the Math"

Pablo Orozco

– "City Plan: Building the Future City"
ENGGTALK #4: Engineering a Career of Fulfillment
September 26, 2020 - Online Video
Cameron Franchuk - Associate, Structural Engineer at DIALOG
Sushmitha

Thirumalaivasan - Chemical Engineering PhD Student at University of Alberta (Data Modeling and Optimization)
Shoma

Sinha - Senior Advisor Advanced Technologies at Government of Alberta
Fraser Forbes - Dean and Professor, Faculty of Engineering at University of Alberta
ENGGTALK #5: Engineers with Cool Careers
May 6, 2021 - Zoom Event
Callie Lissinna - Co-Founder & COO of Wyvern
Uzair Ahmed - Co-Founder & President of InstaMek
Scott Holmes - Engineer at Rally Engineering and the President of Holmes Motorsports
Claudia Gomez-Villeneuve - Professor in Engineering, Pipeline Construction and Project Management as well as Founder of CGV Speaking
Stay tuned for EnggTALK 6!
More information to come soon.